This is stand is designed to hold large face brushes in a drawer.
I just got this vanity table from Ikea (picture taken from Internet)
The drawer of the table is really nice, wide, not too deep, not too shallow; very good for storing make up. Best part is that I only need to open one drawer to see all my makeup
It also has the perfect depth to store brushes. So I build my very first brush stand with bricks from a lego pencil holder (picture taken from Internet... mine is disassembled lol)
So I built one today. Here are my goals for the stand.
1. Hold brushes so the hair is not touch anything
2. Stabilize brushes so they will not be displaced with REGULAR open/close drawer movement. The key point is regular movement. Knowing who I am, I will not really use the stand (or the drawer) if I have to be extra careful opening the drawer every time. And many times I have forceful movement let along regular movement lol.
3. VERY easy and natural to retrieve brushes from the stand and put them back. I am really bad at keeping things organized, unless it is effortless.
So I built this ( It is so ugly T,T good that the lego structure is not very noticeable once brushes are on)
With brush on:
It is hard to tell from the picture, but from the top, the 2nd brush is angled (Hak G5542) & 3rd brush is a flat round brush (G5519) & 6th brush (2nd from bottom) is a smaller angled (Hak G504) & the bottom pedal brush is very flat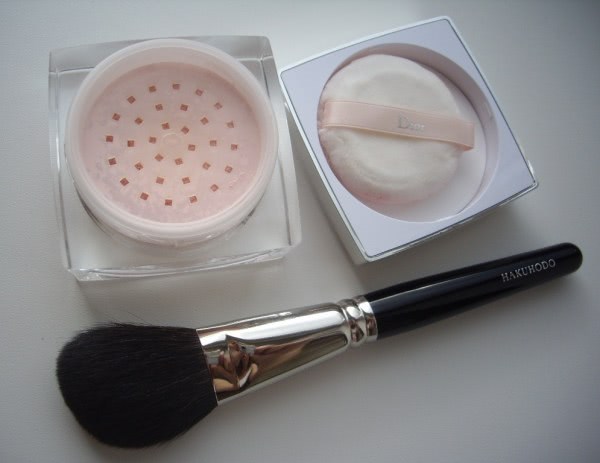 (G5542. picture taken from Internet)
(G5519. The 1st one from the right. Picture taken from brush temple)
(G504. The 1st one from the right. Picture taken from Sonia)
Storing these brushes side ways saves a lot of space so I manage to squeeze in the Z4. I could have place the brushes closer together but then the hair would touch the handles. On this prototype, the hair does not touch anything. First goal check.
What amazed me is how well the stand holds the brush. I did a drawer shaking experiment by open and close the drawer forcefully and rapidly. My brushes barely moved. AND the stand did not move at all
I even shot an youtube video:
https://www.youtube.com/watch?v=d2GiZfU ... e=youtu.be
The noise made from the lipsticks should give you an idea how much force was in that video. My regular opening/closing drawer movement does not cause that much noise from the lipsticks. Second goal check.
Notice how the mini pedal brush and the Z4 brush spots have a little wall at the end of the handle to prevent those two brushes from slipping. I really like that; but I am running out of bricks to add the walls for the rest of the brushes lol.
Now I am going to use these brushes as usual for the rest of the week to see if the 3rd goal is achieved. I have a feeling it is.
Bonus: untill I got a brush tree, this should be good to dry the brushes as well? (maybe I wont need one lol)
Sorry about the long post. I would love to hear your thoughts or suggestions for improvement. I am very glad that finally my brushes (especially G5519) are moving to a better place! They have been through tough times.....
Dusty